Naval Museum of Karlskrona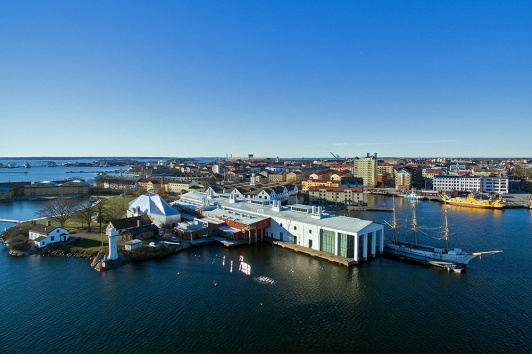 Swedish Naval Museum lies on the island of Stumholmen in Karlskrona. The museum can trace its inception to 1752 and relates the history of the Swedish Navy.
Amid the historical setting of the island of Stumholmen in Karlskrona the beautiful Naval Museum stretches out on a pier into the water. Both young and old can here delve into the highly eventful history of the Swedish Navy on the site which has belonged to the Swedish Armed Forces for several centuries.
Model Chamber from the 18th century
The Naval Museum's inception goes back to 1752 when the model chamber in Karlskrona was founded by the then king Adolf Fredrik. The model chamber held a number of ship models and constructional models, built to test different technical solutions and ship structures.
Today these fascinating and extremely detailed models form the heart of the Naval Museum together with the galleon figureheads in the museum's famous Figurehead Hall, and one of the world's finest collections of museum ships.
The History of the Swedish Navy
The Naval Museum is Sweden's national museum for the history of the Swedish Navy. Along with exhibitions, the museum contains object collections, a drawings archive, photographic archive and a library. The museum is also involved in research.
The present museum building on Stumholmen in Karlskrona was opened in 1997 by the present king Carl XVI Gustaf. Before that the museum lay in the former cadet barracks in the naval harbour, Örlogshamnen, and until 1963 was known as the Shipyard Museum (Varvsmuseet).
A part of Swedish National Maritime and Transport Museums
The Naval Museum is part of the government agency Swedish National Maritime and Transport Museums; a position it shares with the Vasa Museum and the Maritime Museum in Stockholm and the Railway Museum in Gävle. The Naval Museum has c.180,000 visitors each year of whom c. 30 per cent are from abroad. Foreign visitors come mainly from Germany and Denmark, with a high number from Poland.